The Linksys E4200 router is a high speed wireless and ethernet bridging router.
It's not a modem, so you cannot use it to connect to your ISP. Rather, it sits in your network, connected to your modem using it's WAN (Wide Area Network) port, and you then connect your computers to this router.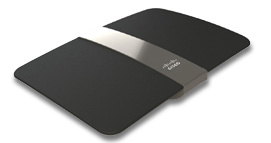 Once connected and set up, it acts as a "bridge" between your home network and the internet.
It provides good levels of security as well as a guest login facility, and while I may not be a fan of the software that usually comes bundled with these sorts of devices, I found that, in this case, the software was well designed and easy to use. The software comes in versions for both the Mac and PC, so most users' needs should be covered.
Set up was quick and easy using this software, and once installed, it provides you with a very useful and usable interface from which you can manage the router, and any connected computers, phones, gaming consoles and TV and video players.
The router's four gigabit ethernet ports and dual band wireless facilities provide fast throughput of your downloads, and its two USB ports allow you to connect external drives for extra shared storage of files on your network. This is a very useful facility if you need to access, say, your photos, music, or video files from more than one computer.
You might also like to read our review of the LinkSys E1200 Router