These days, many people seem to spend a fair bit of their time in meetings, or attending lectures or schools and the like. Frequently, those sorts of activities require that the attendees record notes of what was discussed. This may be necessary because minutes might need to be kept from a meeting (say, a body corporate, or a community based organisation), or in the case of studying and self-improvement, perhaps there might be a test at the end of a course of lectures. If your dad has a need to attend these sorts of activities, then please read on …
Obviously, the taking of those notes is often a vital task, and of course the only thing better than jotting down those notes would be to make an audio recording of what was said.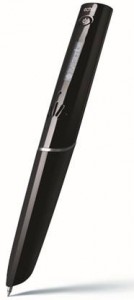 But what if your dad could do both? And what if he could do both, and keep those notes within the context of what was said? That's where LiveScribe's SmartPen range comes into play.
These pens have a built in audio recording facility which lets you take notes, and through using their special dot paper, the written notes that you take are placed, contextually, within the audio recording that you make. This means that you can replay the recording of what was said at the exact time that the notes were made, thus helping you to better remember exactly what your notes might mean.
With local pricing starting from just $149, an Echo SmartPen could make a very different and personal gift for your dad. For more details, have a look at LiveScribe's SmartPen website.