For the last couple of months, I've been very fortunate to have been using the Samsung Galaxy Note 2 mobile phone. I was very impressed with the original Galaxy Note last year, and its successor does not disappoint. This phone comes with Android 4.1 (jelly Bean) installed. First of all – and let's not beat about the bush – this is a big phone. With a crisp and clear 5.5inch screen, the phone itself measures 80.5 x 151.1 x 9.4 mm. Despite this formidable size, it still fits very comfortably in my pocket. And to be perfectly honest, I do...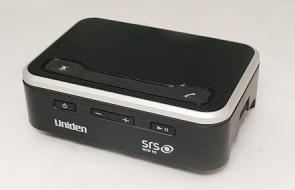 The Uniden BTS200 is a small portable handsfree speakerphone that also doubles as a portable set of speakers for your phone or computer. In fact, due to some elegant design decisions taken by Uniden, the battery can also be used to provide power to your smartphone should that phone's internal battery run out of power. While there are some ostensibly similar devices that can be used within your car as a handsfree speakerphone, that is not the purpose of the BTS200. Rather, it's meant to be used within the home or office. Although it's quite small in overall size, it's...
Last week Jabra launched their newest hands free car speakerphone for your mobile phone, the Drive. The Drive (and other similar devices) is an important class of device for you if you have a mobile phone and drive a car, because it's actually illegal to use your mobile phone while driving, unless you have something like this. Holding your phone in your hand while driving, even you're using the built in speakerphone, is not legal, and if you're caught doing this, it will earn you a hefty fine, as well as several demerit points against your license. By way of...