The Uniden BTS200 is a small portable handsfree speakerphone that also doubles as a portable set of speakers for your phone or computer.
In fact, due to some elegant design decisions taken by Uniden, the battery can also be used to provide power to your smartphone should that phone's internal battery run out of power.
While there are some ostensibly similar devices that can be used within your car as a handsfree speakerphone, that is not the purpose of the BTS200. Rather, it's meant to be used within the home or office. Although it's quite small in overall size, it's still probably a bit too big and heavy to be easily used within a car, and its controls have not been designed with that usage in mind.
Instead, it can sit very comfortably on a desk, taking up very little space, but it will easily let you conduct your hands free phone calls with much better sound quality than the tiny speaker that's built into your phone. If you're in a meeting and have need of a teleconferencing facility, then so much the better.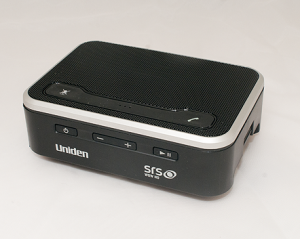 And for just listening to music or the soundtrack of a movie that you're watching on your phone or computer, the sound quality provided again will easily exceed that of your phone, and also of the sound quality from the speakers that have been fitted into most laptop computers.
Setup is easy, and follows the same basic pairing and connection procedures that most bluetooth accessories employ. Put your device (phone or computer) into pairing mode, turn on the BTS200 (it's automatically in pairing mode the first time you turn it on) and follow the prompts on the device.
Controls are very simple. There's power, volume, and for use during phone conversations, a mute switch. If you're using iTunes to listen to music, the pause control on the front panel will start, stop and pause your music playback from within iTunes.
The audio quality of the music playback is really quite impressive for such a small device. As well as the two built-in speakers along the top surface, there's a port at the rear of the device that helps provide a nice full bass sound.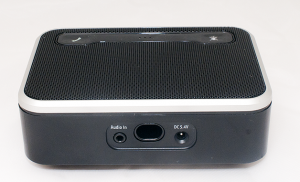 For use as a speakerphone and teleconferencing facility, it provided adequate volume with acceptable sound quality. I was easily able to connect it to my MacBook, and use it with the phone application that I have installed for use when I need to record interviews for the radio show.
There's an auxiliary audio input socket on the back (3.5mm) which allows you to connect it to sound devices that do not have bluetooth capabilities, but which do have, for instance, a standard mini headphone output. Older computers and mobile phones would fit into that category.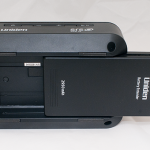 Clever design on the part of Uniden has resulted in the battery not just being removable, but also able to be used an an external charging source for your mobile phone. If you have a standard USB charging cable for your phone, you can plug it into the USB port on the battery and use it to provide power to your phone. I think that is clever and elegant design.
All in all, I think that is a nice little portable speaker, which could be especially useful perhaps when traveling, and where better sound quality may be desired.