Sydney, Australia, 8 June 2011 – Research In Motion (RIM) (NASDAQ: RIMM; TSX: RIM) today announced the BlackBerry® PlayBook™ tablet will be available in Australia starting from Monday 20th June 2011.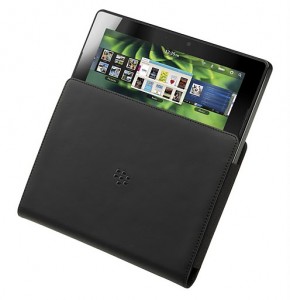 The BlackBerry PlayBook tablet will be available in three Wi-Fi® models – with 16 GB, 32 GB or 64 GB of memory storage – from Harvey Norman along with carriers Optus, Telstra and Vodafone. Carriers will announce availability and pricing closer to their launch date. The BlackBerry PlayBook tablet will retail from MSRP$579AUD, and customers can contact their carrier or local Harvey Norman store for more information. Customers can also register for more information at: http://au.blackberry.com/playbook-tablet/
Adele Beachley, Managing Director for RIM, Australia, said, "The launch of the BlackBerry PlayBook is a highly anticipated event for both consumers and business users in Australia and we are proud to deliver this standout tablet to the marketplace. It offers an ultra-portable design with cutting-edge hardware features, one of the world's most robust and flexible operating systems, advanced security capabilities and true multi-tasking.
"We are excited to provide customers with the opportunity to check out the BlackBerry PlayBook first hand at their carriers' stores or retailers across the country," said Beachley.
The BlackBerry PlayBook is a multitasking powerhouse that stands apart from other tablets. Its groundbreaking performance is jointly fueled by a 1 GHz dual-core processor and an operating system which supports true symmetric multiprocessing. Together, the abundant processing power and highly sophisticated OS enable the BlackBerry PlayBook to provide users with true multitasking and a highly-responsive and fluid touch screen experience for apps and content services.
The BlackBerry PlayBook also offers support for Adobe Flash Player to give users uncompromised web browsing and video streaming, while for the business-minded, the preloaded Documents To Go® software lets users work with spreadsheets and Word files. Plus, the BlackBerry PlayBook cleverly links up with BlackBerry® smartphones over Bluetooth with the BlackBerry® Bridge™ software.
Packed with HD multimedia capabilities, the BlackBerry PlayBook tablet comes with two cameras – a front facing 3 megapixel camera and a 5 megapixel rear facing one, each capable of recording 1080p HD video. In addition, there's support for video chatting, which can show callers in brilliant clarity on the tablet's high resolution display.
For more information about the BlackBerry PlayBook tablet, please visit www.blackberry.com/playbook
About Research In Motion (RIM)
Research In Motion (RIM), a global leader in wireless innovation, revolutionised the mobile industry with the introduction of the BlackBerry® solution in 1999. Today, BlackBerry products and services are used by millions of customers around the world to stay connected to the people and content that matter most throughout their day. Founded in 1984 and based in Waterloo, Ontario, RIM operates offices in North America, Europe, Asia Pacific and Latin America. RIM is listed on the NASDAQ Stock Market (NASDAQ: RIMM) and the Toronto Stock Exchange (TSX: RIM). For more information, visit www.rim.com or www.blackberry.com.