Sydney, Australia, August 30, 2011 – Transcend Information, Inc. (Transcend®), a worldwide leader in storage and multimedia products today unveiled the new JetFlash T3S USB flash drive. Willowy and weightless, the JetFlash T3S is credit-card thin – so small that it can be attached to users everyday essentials for handy access to storage anytime, anywhere.
Housed in a rigid metallic case, the JetFlash T3S is a sleek silver flash drive made from refined zinc alloy and encompasses a stainless steel protection plate. With special chip on board (COB) packaging technology, the JetFlash T3S is a striking yet sturdy storage device that is completely resistant to dust, shock and water.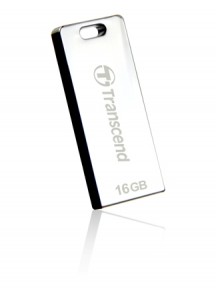 The JetFlash T3S via USB 2.0 interface provides maximum speed reads of up to 18Mbps and write speeds up to 5Mbps. Being USB powered, there is no external power or battery required and with easy plug and play installation, the JetFlash T3S can be connected instantly to a multitude of gadgets and devices.
Measuring only 29.35 x 12.3 x 3.05 millimetres and weighing just four grams, the JetFlash T3S is available in 4GB, 8GB and 16GB capacities. Along with a limited lifetime warranty, Transcend is also offering users free download of Transcend Elite data management tools to keep files organised, protected and up-to-date.
The latest addition to the ever-expanding Transcend JetFlash range of USB flash drives, the JetFlash T3S is available now in Australia and New Zealand. RRPs: AU$14.95 inc GST, NZ$19.95 (4GB), AU$25.95 inc GST, NZ$29.95 (8GB), AU$44.95 inc GST, NZ$49.95 (16GB). Transcend products are distributed in Australia by Cellnet, Synnex Australia, WestGroup and in New Zealand by Cellnet, Datawell(NZ), Ingram Micro New Zealand, Synnex New Zealand.