Sydney, Australia, September 21, 2011 – Transcend Information, Inc. (Transcend®), a worldwide leader in storage products is lighting the way with its SuperSpeed USB 3.0 product portfolio which includes an array of external hard drives, solid state drives, card readers and flash drives.
StoreJet external hard drives
Equipped with lightning fast USB 3.0, the StoreJet 35T3, 25H3P and 25M3 are high capacity, powerful storage devices that allow users to enjoy speedy file transfers. The StoreJet 35T3 external hard drive offers an enormous two terabytes (2TB) of storage space for large files, while the the StoreJet 25H3P and 25M3 portable external hard drives are available in capacities up to one terabyte (1TB) – users can transfer an entire DVD movie in less than a minute and save approximately 200 or so DVD movies.
The StoreJet 35T3 is also an eco-friendly drive which can conserve up to 70% in energy consumption with its power-saving sleep mode which goes into effect after 10 minutes of inactivity. Alternatively, the StoreJet 25H3P and 25M3 are portable hard drives designed for durability. Providing a premier level of protection against accidental bumps and drops, the StoreJet 25H3P and 25M3 are housed in strong and sturdy shockproof cases with anti-slip and robust rubber enclosures that also look smart and offer sizeable storage for more downloads and files.
Solid state drive – SSD18C3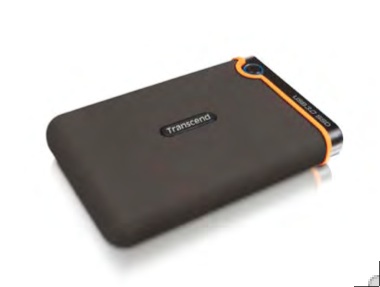 Combining the benefits of USB 3.0, the SSD18C3 1.8" USB 3.0 portable solid-state drive (SSD) encompasses all the performance and durability advantages of solid-state technology. Providing unparalleled speed and stability, the SSD18C3 is a true solid-state drive based on high quality NAND flash memory and features Turbo mode to boost data transfer speeds up to an incredible 260MB/s when connected to a USB 3.0 port.
The SSD18C3 also incorporates a One Touch auto-backup button to backup and synchronise data instantly, and Transcend's exclusive JetFlash Elite software for productive data management. Housed in a strong yet striking exterior that can survive excessive bumps and bangs, the SSD18C3 is also compatible with USB 2.0, the SSD18C3 ensures that users will be able to transfer files on computers not yet equipped with a SuperSpeed USB 3.0 port.
Multi-card reader – RDF8
Armed with SuperSpeed USB 3.0 connection interface, the RDF8 delivers transfer speeds up to 10x faster than standard USB 2.0 card readers. When paired with an Ultra High Speed (UHS-1) SD card, files as large as 1GB can be transferred in less than 12 seconds due to the increased bandwidth of USB 3.0 – data can be carried to the computer as fast as the user's memory card permits.
The RDF8 USB 3.0 card reader comprises four slots: 1) CompactFlash (CF) slot compatible with UDMA CF cards, 2) SDHC/SDXC slot that supports the new UHS-1 standard, 3) smaller slot for M2/microSD cards and, 4) slot for MS PRO/MSXC/MS DUO cards. The RDF8 is also backwards compatible with USB 2.0 and accepts older versions of CF, SD, and SDHC cards.
JetFlash 700 USB flash drive
Equipped with SuperSpeed USB 3.0, experience optimised interface speeds up to 10x faster and take advantage of rapid data transfer rates of up to 70MB/s – nearly twice the read speed, compared with Hi-Speed USB 2.0. The JetFlash 700, available in 8GB, 16GB and 32GB capacities, is also fully compatible with Hi-Speed USB 2.0, features easy plug and play installation with LED usage status indicator and requires no external power or battery.
The outer surface of the JetFlash 700 is streamlined, presenting a divine yet durable finish fabricated with ultrasonic welding technology. On the inside, the JetFlash 700 includes the functional Transcend Elite data management software tool for easy data backup, recovery and synchronisation. As well as allowing users to check emails from any compatible computer, the JetFlash 700 can also be used as a key to automatically log on to website accounts.
Specified to transfer at five gigabits (5Gbps) per second, USB 3.0 is up to 10 times (10x) faster than USB 2.0 and offers a substantial upgrade in the transfer of large files such as HD movies and other multimedia, high-bandwidth media (back and forth), as well as charging and syncing devices such as digital cameras and smartphones. Furthermore, USB 3.0 products, including all Transcend USB 3.0 products, are backward compatible allowing USB 2.0 devices to function with them as well.
Transcend is tackling the USB 3.0 consumer space head on, already delivering an assortment of compatible storage devices including hard drives, solid state drives, card readers and flash drives. Expanding the product line up is on the cards with Transcend expected to release more USB 3.0 products locally in the near future. Transcend is always committed to bringing out new, innovative and cutting edge products to cater to the needs of the consumers.
The Transcend StoreJet external hard drives, solid state drives, card readers and flash drives are available now in Australia and New Zealand and are back by Transcend warranty:
§  StoreJet external hard drives and solid state drives – three year limited warranty
§  JetFlash USB flash drives – limited lifetime warranty
§  RDF8 card reader – two year limited warranty