Sydney – 14 October, 2011 – With portable electronics becoming an increasingly important part of people's lives, Sony is making it convenient to keep devices charged with the launch of a portable USB charger (CP-ELS).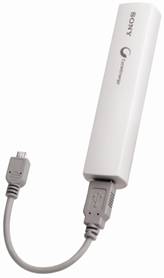 Whether on the plane or at the beach, smartphone users, photographers and portable gamers will now always have a fresh reserve of power to keep their devices running all day long.
High Power, Supremely Convenient
Featuring a long-lasting battery capacity of 2,000mAh, the compact USB charger CP-ELS provides enough power to recharge any modern smartphone on the go, as well as select digital cameras, camcorders[1] and music players, equipping users with a source of instant power for USB-chargeable portable devices. With a high USB output of maximum 5V, 1.0A, users can be assured their smartphones will be recharged quickly in transit, while recharging the CP-ELS is as simple as plugging it into a computer's USB port. A micro-USB cable for smartphones is also included for added convenience.
"With smartphones, MP3 players, gaming devices, cameras, camcorders and other electronic devices playing an increasingly important role in our lives, there's a growing demand for recharging while on the go. The new CP-ELS portable USB charger from Sony demonstrates how we constantly aim to innovate in ways that bring real value to our customers," said Serene Goh, Assistant Product Manager, Retail Media & Energy, Sony Australia. "It can be a huge inconvenience when these portable devices run out of battery, but with the CP-ELS, our customers will always have a supply of power."
1 Applicable to USB chargeable Sony Cyber-shot and Handycam models only