Tuesday 22nd May, Sydney, Australia – LG Electronics (LG), a global leader and technology innovator, has announced the release of a new freestanding dishwasher featuring TrueSteam technology, the only one of its kind on the Australian market.
The new model, the LD-1454TFES2, reinforces LG's commitment to providing premium home appliances that suit consumer's lifestyles while offering ultimate convenience in the Australian home.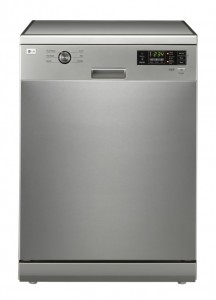 LG's TrueSteam technology, a first for the Australian market, requires far less effort to produce superior results, significantly reducing the need for pre-washing. TrueSteam works by creating high-temperature steam particles that are injected from carefully positioned pressure nozzles. Once the particles attach themselves to grease and grime on dishes, temperatures quickly rise to melting point, so by the time the entire cycle is finished, the dishes are spotless.
Steam temperature and pressure is managed by the built-in steam generator, and the resulting particles are powerful enough to tackle the toughest, burnt on, and dried up food remains. Just one drop of water when heated is equivalent to 1600 steam molecules for powerful cleaning, so the result is superior performance that is exceptionally gentle, regardless of how tough the grime or delicate the dish is.
Unlike other dishwashers on the market, the LG TrueSteam Dishwasher washes fine tableware and heavily greased roasting dishes simultaneously on the TrueSteam Dual Spray cycle. With separate water pressures for the two levels, fine tableware can be cleaned on the upper rack while baking dishes can be placed on the lower rack.
LG's new SmartRack function also allows you to adjust the baskets to suit a variety of dish sizes, and the AutoCycle uses a soil sensor to detect water clarity, automatically adjusting washing time, temperature and number of rinses required.
The water temperature on LG's TrueSteam Dishwasher's Hygienic Rinse cycle reaches up to 80 degrees, which is 10 degrees higher than most conventional dishwashers, producing nothing less than sparkling results.
All of LG's dishwasher range comes with LG's market-leading 10 Year Direct Drive Motor Parts Warranty, providing greater reliability and peace of mind for consumers. The warranty includes two years parts and labour, plus eight years on direct drive motor (parts only).
Fiona Irving, Corporate Marketing Manager, LG Electronics Australia is confident the latest addition to LG's already strong dishwasher line-up reinforces LG's commitment to providing consumers with products that suit their busy lifestyles.
"LG has invested significantly in the home appliance category to ensure we continue to provide consumers with products that fit their lifestyle and provide ease and convenience. The new LG TrueSteam Dishwasher is yet another example of how LG is continuing that investment with a product that provides a superior clean with less time and effort," said Fiona Irving.
The following features can be found in the new LD-1454TFES2:
· TrueSteam Power Technology – each drop of water when heated is equivalent to 1600 steam molecules for powerful cleaning
· 10 Year Inverter Direct Drive Motor Parts Warranty – for greater durability, the motor utilises fewer moving parts to reduce machine wear-and-tear and noise. At the same time it increases stability and durability (two years parts and labour plus eight years on direct drive motor (parts only)
· Auto Cycle – a soil sensor detects water clarity and automatically adjusts washing time, temperature and number of rinses required to give an optimum result
· Steam Generator –a high temperature steam is produced. Entering the dishwasher via two steam nozzles, the steam molecules attach themselves to dirt particles to actively soak and melt away even the toughest baked on stains
· Dual Spray cycle –separate intensities for middle and lower racks (soft/medium/strong)
· Half load option –this program can be selected when you want to use the dishwasher even if it isn't full. With this option, either the upper or lower drawer alone can be selected to wash smaller loads to save you time.
· Water Rating –WELS 4 Star/13.5L per wash
· 14 place settings
· 6 programmes
· Full electronic control
· Stainless steel finish
The dishwashers are available in selected retailers. For more information or stockists please visit the LG website at www.lg.com.au, www.lgdesignerkitchen.com.au or call 1300 LG CARE (1300 542 273) for stockists.