Sydney, AUSTRALIA – 25 August 2011 – Jabra today launched the Jabra Sport-Corded, a tough, ultra-light headset designed for active lifestyles. It enables iPhone and Smartphone users to listen to music and answer phone calls while walking, jogging, cycling or participating in other sports.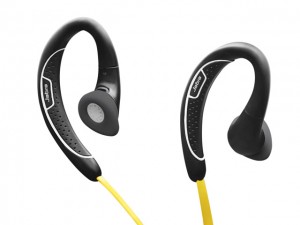 Ergonomically designed with a behind-the-ear fit for comfort during high-intensity workouts, the Jabra Sport-Corded features US military-grade rain, dust and shock-resistant certification, as well as a wind-shielded microphone to enable clear sound.
The control box is located on the cord, making the Jabra Sport-Corded simple to control. The product comes with three sets of Jabra's Ultimate Comfort Eargels which mould to the user's ear canal. These eargels are designed for a comfortable, personalised fit for users, while remaining secure in the ear to prevent them falling out during exercise.
The Jabra Sport-Corded has powerful bass and speakers to allow for high-quality music and call sound. At a lightweight 30 grams, the headset is suitable for almost any fitness challenge – indoors or outdoors.
The Jabra Sport-Corded also includes an FM radio, an extension cable with adjustable cord length and a carry case.
Karen Powell, Regional Sales Manager for Jabra Australia and New Zealand, said, "In a recent web survey by Jabra, we found that more than 50 percent of respondents listen to music while running and more than 60 percent have answered a phone call while exercising. The Jabra Sport-Corded is designed for those users, who want more freedom while they exercise. This product is rugged enough for the most intensive workout, while still providing the best quality sound, usability and functionality for a wide range of active pursuits.
"This is particularly relevant in the Australian market, since we're coming into the warmer weather and many people pump up the volume on their exercise regime as we head into Spring and Summer."
Technical specifications of Jabra Sport-Corded include:
1330mm cable with extension cable
4-pole, gold-plated connector plug
Compatible with most Apple and Smartphones with 3.5mm plug
Microphone sensitivity of -42dB +- 4dB1
Wind noise protection up to 3 metres per second
13.5mm dynamic speaker
Reliability Testing US MIL-STD-810G
One year limited warranty
The Jabra Sport-Corded (for Smartphone) and Jabra Sport-Corded (for Apple) are available immediately at the recommended retail price of AUD$69.99 including GST from Dick Smith, Harvey Norman and Telstra.