Jabra DRIVE combines intuition and simplicity with one-step set-up
Sydney, AUSTRALIA – 2 August 2011 – Jabra has launched its latest in-car speakerphone on, the Jabra DRIVE, providing even the most inexperienced technology users with one-step set-up for wireless Bluetooth connectivity, noise cancellation technology and high-quality sound.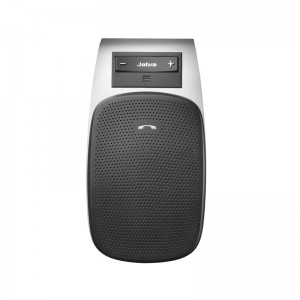 The Jabra DRIVE combines the same high-quality technology of its Jabra predecessors into a new design, enabling simple in-car calling solutions for all drivers and passengers. The wireless in-car speakerphone automatically pairs with two elected Bluetooth devices, requiring no further installation for stress-free connectivity on the road.
Jabra's wireless capabilities allow users to answer calls and speak with hands-free safety. The DRIVE features microphone performance and digital signal processing sound technology to drown out traffic noise and backseat chatter while enhancing the call with noise cancellation and echo reduction.
The Jabra DRIVE is equipped with intuitive simplicity, featuring large control buttons for volume and on/off functionality enabling easy visibility and control over calls. A voice guidance system announces battery status, GPS audio and Bluetooth® connectivity to optimise in-car safety and efficiency. With a 50 percent extended talk life over its predecessor product, the Jabra DRIVE features up to 20 hours of talk time and 30 days of standby time, providing enough battery life to last through long commutes or road trips.
"The Jabra DRIVE is for everyone from the tech-savvy to the technologically challenged, from mums to grandfathers. We have designed the DRIVE to be as intuitive and simple as possible – all you have to do is press the button and talk and we've taken care of everything in between" said Karen Powell, Regional Sales Manager ANZ, Mobile Division, Jabra.
Key product specifications of the Jabra DRIVE include:
Bluetooth 3.0, including Extended Synchronous Connections (eSCO) enhancing quality of transmitted voice audio
Multiuse™ – connects to two Bluetooth devices at the same time
Voice guidance system alerts low battery status and Bluetooth connection
Crystal clear sound with echo and noise cancellation (DSP)
Automatic volume adjustment
Auto-pairing to mobile phone
Dedicated control buttons
Stream audio from GPS applications
Up to 20 hours of talk time and 30 days of standby time
Dimensions – L104mm X W56mm X D18mm
Weight – 100 grams/3.38 ounces
Includes a Micro USB cable, in-car charger, clip for visor and quick start manual
The Jabra DRIVE is available immediately from Dick Smith Electronics at the recommended retail price of AUD$59.95 inc GST.