These days we are seeing more and more cameras and camcorders with higher resolution sensors which means that, all things being equal, your dad should be able to make better and higher quality images and video with his camcorder and camera.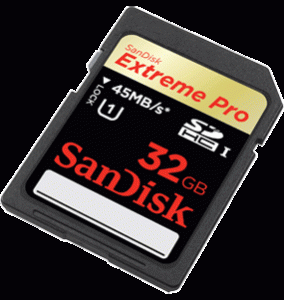 But higher resolution sensors also means that he needs to have more storage capacity within his camera or camcorder, so that the photos and movies that he'll be making can be saved within the device, and at a later time, pulled from the device so that he can see them, and share them with you and the rest of your family. He may also want to upload them onto his computer, maybe edit them before printing them off … there's a lot of stuff he can do with his images today.
It's important to understand that the memory cards that he stores the images on – within the camera – needs to be of the highest quality. It needs to be fast, so that the Kodak-moment may be captured, and it needs to be reliable, so that the images are properly saved, and not corrupted.
That's where SanDisk comes into play. They make the cards that many of the camera makers give you in the box, and they're at the leading edge when it comes to the development of the latest technology that's currently in use. This means that their memory cards are fast, reliable, and can talk to the newest of the cameras.
Available in both SD and Compact Flash formats, Sandisk should have a memory card that will fit pretty well any digital camera your dad might have.