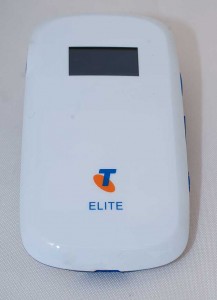 If your dad travels, and if he likes to be connected to the Internet, then there's a good chance that, during his travels he may run into problems with connectivity.
If he stays in hotels, then there's the issue of the exorbitant prices that hotels will charge you for your internet access. Usually, you need to pay by way of an arm and a kidney, such is the way that hotels in Australia will gouge you for the provision of such a basic service. Of course, dad might wander down to the local internet cafe, with all of the wonderful privacy and security issues that such venues provide.
Or he could use a Telstra 3G Elite Broadband pocket modem. This is a small device – truly pocket sized, and smaller than most mobile phones – yet it allows your dad and four of his closest buddies to connect to the Telstra 3G network, which is widely regarded as offering the best mobile broadband service in the country.
Setup is easy, connectivity is great, and at just $129, including up to twelves months' mobile access, this is a great Fathers' Day gift idea for your road warrior dad.