SYDNEY – 14 DECEMBER, 2011 – NETGEAR® has today launched the NETGEAR Wireless Extreme for Mac and PC (WNDRMAC).  The Wireless Extreme is the company's first home router to be optimised for Mac-specific technologies – including native support for Apple's Time Machine® back-up software and Bonjour® automated networking technology – in addition to the speed, range and premium features found in NETGEAR's latest consumer routers.
Many Australian homes now use both PC and Mac, in addition to iPhones, iPads, tablets and other devices, on their home networks.  The Wireless Extreme is designed from the ground up to offer a best-of-all-worlds solution. It includes the advanced features found in NETGEAR's award-winning family of routers – parental controls, DLNA compatible media streaming, a broadband usage meter and simultaneous dual-band wireless performance. In addition, the Wireless Extreme also features NETGEAR's Genie, which is a dashboard-style application that provides easy and complete router and network management, CD-less installation and support for Mac-specific technology, such as Time Machine and Bonjour.
"With the growing number of devices in the home, Australian consumers are more and more likely to use both Macs and PCs. NETGEAR's new Wireless Extreme combines the best of these worlds in a high-performance networking product," said Brad Little, Senior Director of Consumer Channels, NETGEAR Australia and New Zealand. "For the first time, Mac users can access NETGEAR's advanced technology features along with Mac-specific features previously available only in Apple's networking products. PC users can deploy a home network that makes it easy to integrate Macs and enjoy all of their unique network capabilities."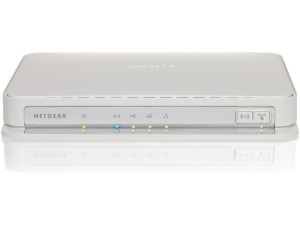 A key benefit of the Wireless Extreme is that it can be installed and set-up without a CD via a simple and intuitive interface from Android smartphones, iPhones, iPads or any PC or Mac computer.  For Mac users, NETGEAR's ReadySHARE® technology enables the Wireless Extreme to double as a fully functional Time Machine backup device with an attached USB external hard drive. The new router also supports Apple's Bonjour automated networking technology, which allows Macs, PCs and other Bonjour compatible devices to find each other on a home network and share USB printers.
The Wireless Extreme also features dual-band wireless N networking (2.4GHz and 5GHz) and an advanced 680Mhz processor to support state-of-the-art HD media streaming, multiplayer online gaming and simultaneous downloads. The router is DLNA certified for streaming media to DLNA-compatible high-definition televisions, Blu-ray™ players and game consoles.
Other advanced features of the Wireless Extreme include:
ReadySHARE® Printer. The Wireless Extreme makes it easy to turn any existing USB printer into a fully functional networked printer that is compatible with Macs, PCs and a growing number of mobile platforms.
NETGEAR Genie. This free utility for PCs and Macs allows home users to control, monitor, repair and manage their home networks easily through a simple and elegant dashboard.  NETGEAR customers can download the utility at http://www.netgear.com/genie.  The Mac version is available as a public beta.
Guest network access. The Wireless Extreme's browser interface and the NETGEAR Genie utility make setting up a guest network simple and easy.  Visitors can go online freely without the need for your secure login information.  The guest network also prevents users from seeing and accessing your computers, printers, storage drives and other home-network devices.
DLNA. A USB hard drive plugged into the router becomes a powerful DLNA media server for sharing any entertainment content stored on the drive – including video, music and photos – to DLNA-certified, Internet-ready consumer electronic devices, including televisions, Blu-ray™ players and game consoles.
Advanced Quality of Service. By prioritising video streams over other home network traffic, advanced Quality of Service provides the best possible viewing experience for online video.
Gigabit wired Ethernet. The Wireless Extreme comes with four high-speed gigabit Ethernet ports for ultra-fast wired connections.
Leading Security. The router supports WPA and WPA2 protocols for WiFi, has double firewall (SPI and NAT) protection against Internet threats, and provides Denial of Service attack prevention.
Broadband usage meter. This tool enables users to monitor their Internet data consumption and can send customised alerts when usage is close to monthly bandwidth limits, avoiding costly overage fees for those with metered service plans.
NETGEAR Live Parental Controls.  This centralised, flexible and reliable parental control solution for all the devices on the network, including Macs, Windows PCs, smartphones and tablets, provides a safe online environment for children and teenagers – no subscription required.
Automatic WiFi security.  The Wireless Extreme comes with wireless security turned on out-of-the-box with a pre-configured network name and password so home WiFi networks are protected by default.
Pricing and Availability
The NETGEAR Wireless Extreme for Mac and PC (WNDRMAC) is available now for RRP AUD$219.