Sydney, Australia – 14 December 2011. Toshiba (Australia) Pty Limited has expanded its camcorder range with today's launch of the Camileo X400, giving users the power to easily shoot and share HD video from the palm of their hand.
"With the new Camileo X400 the technology does all the hard work. Packed with intelligent features like face tracking and smile detection, a built-in microphone jack for improved audio quality and Cut 'n' Save video editing capabilities, it's incredibly easy to use", said Rob Wilkinson, General Manager Information Systems Division, Toshiba Australia.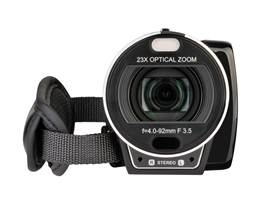 "Whether you're a budding filmmaker or a complete beginner when it comes to shooting video, anyone can create stunning quality footage. Sharing special memories with friends and family via social networks and sites such as YouTube is simple with Toshiba's handy web upload function," Mr Wilkinson said.
The Full HD 1080P Camileo X400 is equipped with a 3-inch LCD touch screen and a dedicated pause button that makes it possible to pause the recording and to continue with a different scene within the same clip.
Featuring a built-in microphone jack consumers can create flawless film content with high quality audio, providing a sensational soundtrack to help bring those special events like parties, holidays, birthdays and graduations to life.
A powerful 23x optical zoom and the 120x digital zoom gets you closer to the action, while filming in low light conditions is improved thanks to the 5MP CMOS sensor. Featuring back side illumination technology (BSI) which increases the sensor's light sensitivity, the Camileo X400 captures brilliant and vivid videos whether at twilight or in rooms with artificial light.
A range of accessories are also included such as an HDMI cable so users can simply connect the camcorder directly to the TV to enjoy watching the videos on the big screen. An SD card slot makes it simple to expand storage and swap cards, while mini-USB enables quick data transfers with notebooks and other mobile devices.
Toshiba Camileo X400 | Easy to capture and share unique moments in HD
RRP $349 (inc GST)