Sydney, Australia, 29 May 2012: Eye-Fi, the maker of the world's first wireless SDHC memory card, has today announced the Australian launch of its wireless X2 series. Featuring built-in WiFi, Eye-Fi memory cards simplify photo and video upload, sharing, organisation and back-up.
An Eye-Fi card is used like a regular SDHC card to store photos and videos. However, the built-in WiFi connects the camera to the user's smartphone, tablet or computer. Photos and videos are instantly uploaded from the camera to device as they are taken Eye-Fi provides both native apps (iOS, Android, desktop for Mac/Windows) and a web app for optimal on-device experience and access. As such, Eye-Fi cards expand and extend the capabilities of existing digital cameras, providing users with the advantages of wireless connectivity in the camera that they already own.
Three types of Eye-Fi cards will be available in Australia and New Zealand from June, including the professional level 8GB Pro X2. Offering high-end memory card performance suitable for high megapixel cameras, photo enthusiasts will benefit from increased storage capacity, class 6 performance for faster read/write speeds, faster than ever wireless photo and video uploads and strong Wi-Fi range. Complete with wireless RAW uploads and automatic geotagging, the Pro X2 is ideal for professional and avid photographers, travellers and bloggers.
Two additional Eye-Fi cards will also be available, the 4GB Connect X2 card and 8G Mobile X2. These cards offer all the key features, such as wireless JPEG and video uploads, that have made Eye-Fi so successful among families, students and amateur photographers – anyone who takes a lot of photos and wants a better way to organise, store and share them.
Easy sharing
Eye-Fi cards make sharing photos and videos with friends and family effortless. Users can connect their card to one of 25 social, printing or sharing sites for automatic upload straight from the camera. Or, for more individual sharing, users can simply pick from the content already delivered to their device and post to their favourite sites such as Facebook, Flickr, YouTube and Picasa. Those who prefer to keep photos private can simply send an email to selected contacts with a unique link-back to view the images. And of course, printing at home or via an online printing service is equally simple.
Automatic organisation
Eye-Fi cards make the organisation of photos and videos easier than ever, without need of a cable or SD card reader to connect the camera and computer. Photos and videos are automatically uploaded in date-based folders, making content quick and easy to find, edit, print and share. This is particularly helpful for professional photographers as data is easy to access and load into editing software or hosting sites. This feature also provides immediate back-up for all photos and videos taken on the camera, so that should anything happen to the camera, the content is already stored and organised on another device. Eye-Fi's high level of automatic organisation and back-up encourages people to stop using their SD cards as a backup or filing system, and rely on one Eye-Fi card rather than buying new SD cards when one is full.
Endless memory
All Eye-Fi X2 series cards also include Endless Memory, a feature which automatically frees up card space after content is safely transferred to the user's device. While 4GB and 8GB of on-card memory provide storage for thousands of photos and hours of video, Endless Memory removes the hassle of having to delete photos at the last minute in order to capture another shot. Endless Memory is a customisable feature, where a simple activation lets users set a threshold (eg. 50% capacity) after which the card automatically starts making space, only deleting content that has been safely delivered.
When without access to a WiFi network, Eye-Fi's unique Direct Mode enables users to upload on-the-go. Using the free Eye-Fi app, users can download photos and videos directly to any iPad, iPhone or Android device, even while at the beach or hiking in a remote area. Content is then automatically sent from this device to the user's private, personal photo cloud, Eye-Fi View, which provides users with seven days of free access to view, download or share content from any internet-connected web browser.
For unlimited storage and access to their personal photo cloud, users can upgrade to Eye-Fi Premium and get secure, long-term back up of photos and videos. This is an ideal solution for travellers who may be without access to their PC for longer periods of time, as well as those looking for a more permanent back-up strategy. Eye-Fi Premium is available for an annual fee of US$49.99 online at www.eyefi.com.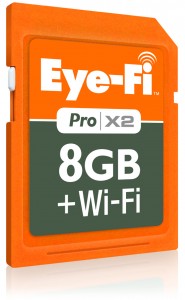 8GB Pro X2, RRP $119.99
· 8GB memory
· Class 6 read and write speeds for high/great performance
· Wireless JPEG, RAW & Video uploads with powerful built-in 802.11n wireless speed
· Automatic geotagging to map photos
· Automatic backup and organisation
· Endless memory
· Online sharing
· Direct mode
· An advanced card to streamline your workflow and make being in the field easy
4GB Connect X2, RRP $59.99
· 4GB memory
· Class 6 read and write speeds for high/great performance
· Wireless JPEG & Video uploads with powerful built-in 802.11n wireless speed
· Automatic backup and organisation
· Endless memory
· Online sharing
· Direct mode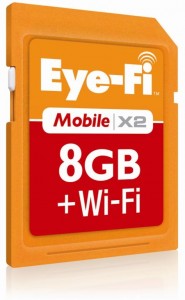 8GB Mobile X2, RRP $99.99
· 8GB memory
· All features same as 4GB Connect X2
Availability
Eye-Fi cards will be available in leading camera specialists and electronics stores from June 2012 in Australia and New Zealand.